Do you have patched or pigmented skin after years of sun exposure? Do you spot signs of premature aging, like wrinkles and fine lines? If you wish to combat these visible signs of sun damage and aging using a non-invasive procedure and attain youthful and healthier skin, IPL Photofacial at GoldCoast Medspa can help.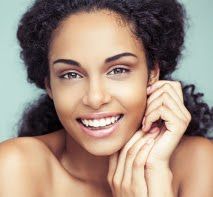 IPL Photofacial 
Intense pulsed light (IPL) therapy or Photofacial is a cosmetic treatment that rejuvenates our skin, makes it healthy, and restores a bright, youthful appearance. Unlike a regular laser that emits just a single wavelength of light onto the skin, IPL works by emitting different wavelengths of light. The scattered lights emitted by the laser are capable of penetrating deep down into the dermis (second skin layer) without damaging the epidermis (outer skin layer) to address various skin conditions simultaneously. When the skin's pigment cells absorb the laser's light energy, it destroys melanin and eliminates the brown and red skin patches over time, resulting in clearer skin. When the wavelengths get into the deeper dermal layers, it also stimulates collagen production, thus producing clear skin.
What Skin Conditions Does The IPL Photofacial Treat? 
IPL Photofacial safely addresses and treats the following skin conditions effectively:
Brown spots
Dark patches or age spots
Acne
Rosacea symptoms
Facial and leg veins
Vascular lesions 
Sun damage and hyperpigmentation
Fine lines and wrinkles
Freckles 
Enlarged open pores
Uneven and rough skin texture
Signs of aging
How does an IPL Photo Facial work?
When the light emitted by an IPL Photo Facial gets absorbed superficially into the skin, it targets melanin-producing cells and problematic hemoglobin to destroy them and distribute the rough, pigmented, uneven spots on the skin. The pigmented areas are dragged to the skin surface, which will eventually disappear, exposing a revitalized, youthful, and even skin. 
IPL Photofacial Procedure
The procedure of IPL Photofacial starts by numbing the patient's treatment area using a topical cream. After applying a cool gel to the face, the provider will use a handheld device with a smooth surface to run along the skin as it produces pulsed light.
Once the procedure is over, the treated area is cleansed using a warm cloth, and a moisturizer and sunscreen are applied.
Recovery 
After the treatment, the patient may experience a feeling of sunburn or irritation for a few hours. You can apply ice packs or place a cool washcloth to reduce the discomfort and feel better. 
Besides, the patient may have their skin appear red or bruised for one or two days. The brown spots may also appear darker; however, they will peel off in a couple of weeks.
During the healing time, follow these steps to speed up healing:
Use sunscreen with an SPF of 30 to protect your skin. Reapply after every two hours. 
If your skin hurts, don't apply much makeup.
Use a light moisturizing lotion.
Depending on the skin condition, the treatment may take three to seven sessions with a 2-4 weeks gap between each visit. 
To learn more about IPL Photofacial, please call us at (312) 664-2128 or schedule an appointment online.